Date/Time
Date(s) - Thursday 28 Jul 2022
10:30 am - 12:00 pm
Location
Woodoaks Farm
Cost : £3.00
Join Flo and Rose for a guided walk around the beautiful Woodoaks farm to learn about how sustainable organic farming can benefit wildlife.
Tea and coffee at The Tea Shack included.
Woodoaks farm is in Maple Cross, Rickmansworth in the Northern part of The Colne Valley Park and we will be taking you on a short walk amongst farm and woodland, with great views and wildlife to enjoy.
The walk is around one mile in length and takes you on a public footpath around the top of the farm grounds, passing the 16th Century Barn, through Lady Walk wood before returning back around the rolling fields to the Black Barn. Woodoaks Farm is a haven for certain farm birds – kites, skylarks and you may even be lucky enough to spot their resident little owl.
Plus, receive a free copy of our Colne Valley Trail pack when you come on one of our guided walks during the Festival!
All Festival Walks are Free of Charge to Friends of the Colne Valley Park in appreciation of their support. We hope it will also encourage our members to explore new parts of the Regional Park. Interested in Supporting the Regional Park? Click here to join the Friends.
The Woodoaks Tea Shack and The Creative Juices Brewing Company are on site and we will be finishing our walk with a complimentary tea and cake at the Tea Shack whist relaxing on the outside seating.
Free parking available for anyone who comes on the walk.
Families welcome, but there will be parts of the walk that are steep. See below for how to book.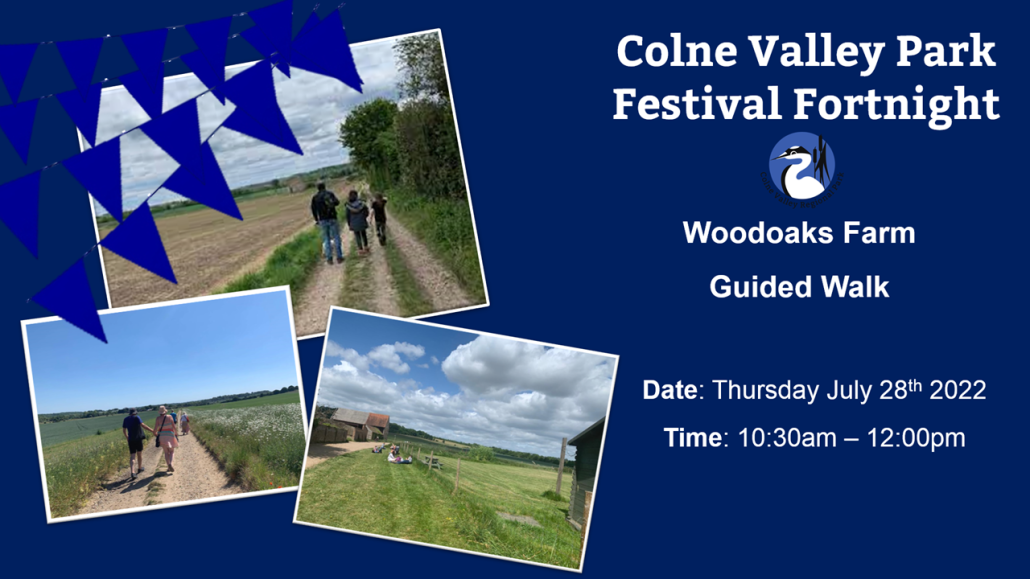 Booking Instructions
Child Friendly. All welcome.
This event is free but you must pre-book if you wish to attend. Please click on the link here to get your ticket on Eventbrite.
If you are a Friend of the Colne Valley Park booking a place on this walk, please email [email protected] and don't forget to include the name of the walk, your name and your FoCVP membership number. We will respond to confirm your booking.
If you're unable to access Eventbrite please contact us at [email protected]