Date/Time
Date(s) - Saturday 7 Aug 2021
12:00 pm - 6:00 pm
Location
Woodoaks Farm
Free
Come and visit Woodoaks Farm for a unique pop-up event celebrating all that we offer and more.
We will be showcasing art from our renowned  artist Romey Brough and reclaimed woodland products from our resident carpenter The Woodman's Chisel along with our better known businesses The Woodoaks Tea Shack and The Creative Juices Brewing Company.
We have also invited specially selected guests from the local area to join us on the day. They include @whitbysfamilyfarm who supplies quality, grass-fed beef/lamb raised on local pastures and nature reserves and an exciting new business called @slothychef an exciting new barbecue pop-up, who will be showcasing slow-cooked organic meat and vegetables, straight from the smoker'. And we have invited a guest brewer The Mad Yank Brewery  who explore both traditional and inventive, new styles of brews
Come and support your community & Woodoaks Farm by celebrating local producers at the Colne Valley Festival Fortnight.
All welcome. No need to book in advance, there's lots of space, just come and join us. Find out more about Woodoaks Farm here.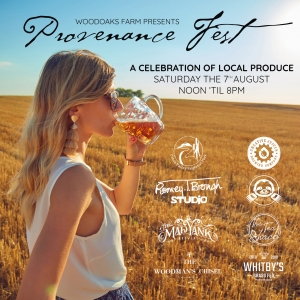 Booking Instructions
Child Friendly. All welcome.
This event is free. Come along and join in. There is no need to book in advance.
Free car parking on site.