Date/Time
Date(s) - Sunday 25 Aug 2019
All Day
Location
Colne Valley Visitor Centre
Free
We are running three expert led, creative writing workshops on the The Colne Valley—A Changing Landscape Focusing on the themes: 'Industry', 'Community with Roots' or 'Landscape'
Sunday August 25th – Community with Roots (e.g. Canal, travellers, farmers)
FREE Creative Writing Workshops. Sharpen your pencil and get your creative juices flowing!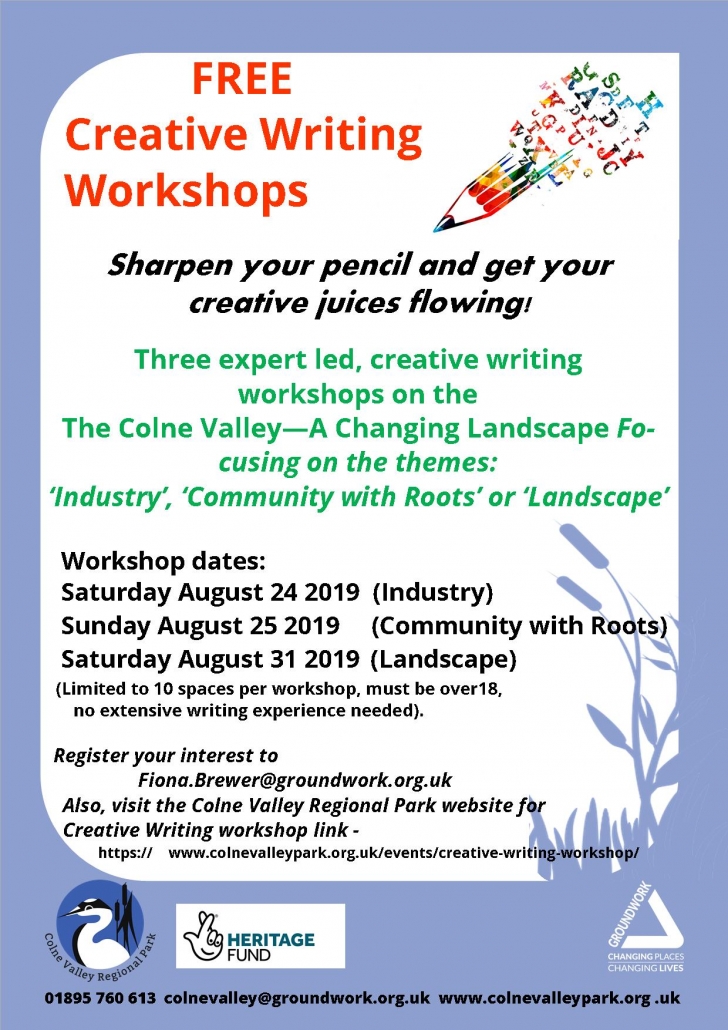 Limited spaces – 10 per workshop
Must be over 18 years old
No extensive writing experience needed
 Register your interest with Fiona.Brewer@groundwork.org.uk
Detailed description: 
We are looking for people who enjoy creative writing and would be interesting in attending one of three workshops about the landscape change in the Colne Valley Regional Park.
You can be part of The Colne Valley Heritage Lottery project. This scheme aims to deliver projects encompassing waterways, habitats, conservation and communities within the Colne Valley to create a legacy that can be enjoyed for years to come.
One of these projects 'Walks Through a Changing Landscape' presents a unique opportunity to apply for a place on one of three creative writing workshops on the themes of: 'Industry', 'Community with Roots' or 'Landscape'.
The workshop day will include; a site visit within the Colne Valley Park, tutor led discussion on key aspects of the trip and storylines, drawing up your story and group discussion. After the workshop day, you will be expected to complete your written work during which time you will be offered a telephone conversation to help with ideas.
Your story along with the stories from the other workshop will then be considered for inclusion into an anthology e-book, which will be made available on the Colne Valley Park website.
Other Workshop dates:
Saturday August 24th – Industry (e.g. Heathrow, gravel pits, farming) 
Saturday August 31st – Landscape (e.g. HS2)
Contact: fiona.brewer@groundwork.org.uk if interested.